What the what????!!!! So many entrepreneurs, especially the Baby Boomers and the mature Gen X, have been misinformed or started to believe their excuses. The one true fact about social media is it costs less than print, tv, or radio advertising. Another fact is that it doesn't cost to open an account. So if you are one of those entrepreneurs who still haven't utilized the social media accounts you started or haven't even opened an account at all, then I hope this inspires or motivates you.
SOCIAL MEDIA MYTH #1: Social Media is for techies.
Social Media is multifaceted! There are parts of social media that are more advanced but the truth is this, it is all about knowing what to say at the right time! Now, is there anything technical about that? It's as simple as typing and pushing the post button. That is the most basic skill that Social Media requires. The truth is, Social Media is for story tellers!
There are also so many supporting apps that can assist you in editing photos, automating posts, editing videos and so much more. Click here to read all about my top 10 apps.
SOCIAL MEDIA MYTH #2: Facebook is dying (or dead).
Wow! Whoever said this either works for SnapChat or simply don't want you to succeed. Please don't believe everything people say especially if Social Media is not their expertise.
Well, I'm happy to say that Facebook is ever-growing and so much stronger than before. Their analytics and business features are so user-friendly. Having bought Instagram, they have definitely dominated the Social media platform. Now, Twitter on the other hand is in big trouble.
As of April 2017, Facebook currently has the highest following! Keeping in mind that Facebook, Instagram, and Facebook Messenger (2nd to the last icon) are all owned by Mark Zuckerberg.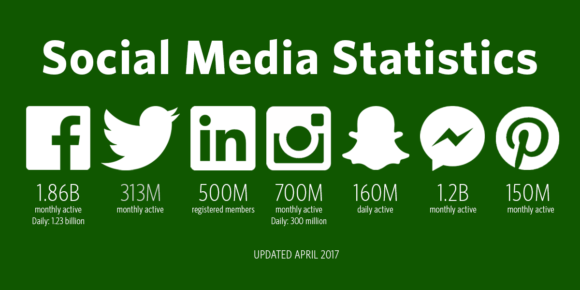 SOCIAL MEDIA MYTH #3: "Social Media is time consuming and I don't have the time."
Yes you do and you cannot afford NOT to be on social media! It might take you a little longer to learn if there is a learning curve but it's called a "curve" for a reason! Take the few hours to learn and then spend less time than expected. Of course social media experts (like me – shameless plug :)) spend a lot of time on our pages and client's pages. As a business owner, you can spend anywhere from 2-4 hours per week on social media and you will be fine. Don't lie, you already spend that much time browsing it anyway!
The average person spends 25 hours a week on their phone so you can spare 2-4 hours for your business, surely.
SOCIAL MEDIA MYTH #4: If I can schedule all my posts, that's enough to help manage my pages.
Unfortunately, you have to engage on social media. It's called social for a reason! Spend 1-2 hours to schedule your posts then spend another 1-2 hours to engage on social media. Engagement simply means you are commenting back on your followers posts or comments or asking questions to get people to respond back to you. Keep them active! It's a good indication that your followers are alive. 🙂
SOCIAL MEDIA MYTH #5: I can use Social Media as a sales platform!
You can use social media to sell but you may not get the results you expect because social media is actually more about soft selling. Use social media to educate your followers about your products. Use social media to engage and discover what your customers or potential customers are thinking or are into. Tell your story on social media and once in a while, no more than 25% of the time, you can post an item or two for sale. Lead them back to your website for hard sell.
The reason why this myth cripples business owners and entrepreneurs is they get discouraged easily when the items they post for sale aren't selling. Then they start to think that Social Media is not for them. When in reality, they're just not using it efficiently.
I hope this debunking sesh (session) has helped you reconsider your stance on social media. Spend some time to follow and study national and international brands that you look up to and see what they post on their pages. One thing I know about entrepreneurs and business owners is that you are eager to learn what you need to learn or hire someone else to do what you're not good at. Don't cross out social media on your list. It is an important tool for marketing and branding.